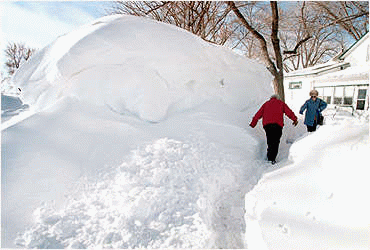 Airlines  including American, Delta, Southwest and United canceled more than 1,400 flights from Chicago as a snowstorm that slammed the U.S. Midwest during the weekend moves toward Canada.
The storm, which dumped as much as 21.5 inches (55 centimeters) of snow in Minnesota, caused the roof of Minneapolis's Metrodome to collapse. The National Football League game between the Minnesota Vikings and the New York Giants was moved to Ford Field in Detroit today. Wind and rain caused flight cancellations from Boston to Washington.
About 1,200 flights out of Chicago O'Hare International Airport and 250 out of Chicago's Midway International Airport were canceled over the weekend, with more delays and cancellations expected, the Chicago Department of Aviation said yesterday. Heavy snow was reported in parts of northwest Indiana and southeast Michigan early today as the storm moves east.
"This winter storm is obviously causing havoc with air travel through the upper Midwest," Mary Frances Fagan, a spokeswoman for AMR Corp., operator of American, said in a telephone interview from Chicago. "Hundreds of flights have to be canceled for safety reasons."
As many as 2.3 million people a day may fly on U.S. airlines from Dec. 16 through Jan. 5 as demand rises 3.1 percent this holiday season compared with last year, the Air Transport Association forecast Dec. 8. Planes may be 90 percent full on average for the busiest days, the Washington-based industry group said in a statement.
At least 272 of Fort Worth, Texas-based AMR's American Airlines, American Eagle and AmericanConnection flights were canceled out of Chicago, according to Fagan.